A collection of curated stories from client industries, CX and global trends that grab our attention.
ICYMI - While January had CES, February had the Super Bowl. With it, electric vehicles and chip shortages continue to steal the news spotlight. But perhaps the brightest news of all is that a beloved car model is coming back as a full EV! I'll write more on that later, but let's just say it doesn't need a bolt of lightning to charge this time …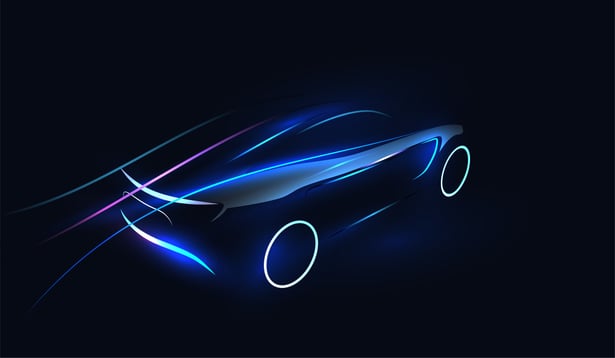 In all seriousness, the focus on electric vehicles is only intensifying. Multiple articles and analysis appear daily, and it will be great to follow consumers through the buying and service experience as the market matures. It's my hope that very soon, the market will move from awareness and novelty to true mainstream transactions for these advanced machines.
EV Ads Fit for a Lombardi Trophy
Gods of thunder, robot puppies, evil doctors and new entrants challenging established OEMs … it was a Super Bowl commercial streak as important as the big game itself. After such sizable investments during the game, it's going to be important for all automakers involved to secure a customer experience that transcends entertainment and awareness to revenue and satisfaction.
2022: A Critical Year for EVs
As gas prices rise and markets remain depressed, EVs remain a climate-friendly option, though OEMs that are slow to adapt are under a true existential threat. What happens to traditional auto parts makers, like makers of mufflers, fuel injection systems and more? What happens to the workers?
The New York Times weighed in on this very topic, and they're highlighting 2022 as the make-or-break year for the industry on every level.
Don't Forget the Chips
Even as COVID-19 restrictions lift, it's painfully obvious that supply chain issues still exist for all OEMs. The chip shortage continues to wreak havoc in the industry in various ways, from removing options from heated seats in new models to shrinking entire dealer supply. Yet OEM heads remain hopeful the second half of 2022 will bring good news on the supply front. In the meantime, the disruption in inventories keep automakers maintaining exceptional customer service touchpoints in the face of this painful wait.
Eight Ford factories halted by shortage:

Across North America, Ford has either suspended or completely halted specific production lines due to chip shortages. While Ford anticipates this being only a temporary measure, read which plants were forced to stop production … and how they'll come back sooner than we think.

Toyota or Nissan: Who's winning?:

Automotive News reported that while the two automakers are both hurting from the chip shortage, it's Nissan who is now showing up its classically dominant rival. Here are the latest sales numbers for both companies and what this could mean for the industry at large.

A hopeful outlook from Ms. Barra:

General Motors CEO Mary Barra reported that the automaker has plans in place to reduce its constraints on its semiconductor partners in the third or fourth quarters of 2022. How did she reach this conclusion? The proof's in its sales numbers and investments, all detailed here.
But let's not end this recap on a low note – here's a bonus article for the Doc Brown and Marty McFly fans in our readership ...
The DeLorean is coming back!:

That's right – the famous DMC DeLorean, as made famous in Back to the Future, is returning as an all-electric sports car! How do we know that? Check out this tweet straight from the Texas-based firm that owns their rights – it may be arriving sooner than anticipated.
For further information on how we got to where we are, I encourage you to check out our previous ICYMI blog posts throughout 2022 and 2021.