A collection of curated stories from client industries, CX and global trends that grab our attention.
ICYMI -
We care for the automotive industry and how it benefits its customers moving forward into the future. That's why, every month, I blog about everything from electric vehicles and mobility to connected car services and customer experience. Knowledge is power, and we want to always understand and be prepared to help our clients anticipate and adjust to the changes these headlines can cause.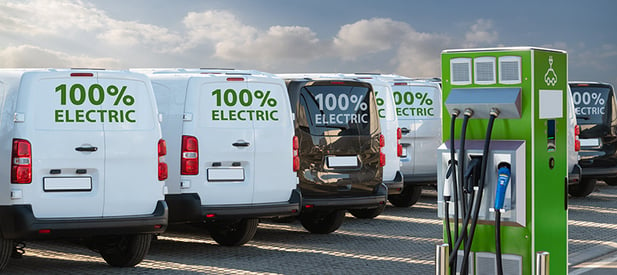 The central themes that have been in play throughout the automotive industry continued throughout September 2021. Bad news first: The havoc caused by global semiconductor shortages has not diminished, with lower September sales and production shutdowns on all fronts. The good news is that despite this, production that is still online is still innovating, with autonomous vehicles and robotaxis continuing to be tested and introduced. For example, Hyundai and Motional are continuing to expand in Las Vegas, aiming to launch their commercial robotaxi service in the city in 2023.
This month isn't about automation, however. Instead, I'll share three news storylines that played out through September: Commercial EV vans and trucks emerging as a hot commodity; mass OEM bids to offer numerous connected car software/services throughout the lifespan of the vehicle; and the growing pains that come with EV adoption between OEM and dealerships.
EV Van Competitors Emerging
We already know about GM, FedEx and BrightDrop's first forays into EV vans and commercial vehicles. But now that the first of them are starting to roll out, other OEMs are offering their own interpretations of the must-have EV commercial fleet for any business – and they're making a compelling argument.
Karma catching up with EV trucks:

While the California-based automaker is known for luxury cars, it's making the leap to commercial EV trucks. At the Advanced Clean Tech (ACT) Expo in Long Beach, Karma unveiled a delivery van and a shuttle bus – here's what else we know about these vehicle specs.

BrightDrop is about to drop its first EV vans:

After beginning production on the EV600, GM's BrightDrop has announced its second EV van model: the EV410. In addition to featuring the same safety features as its bigger brother (such as front/rear park assist, auto-emergency braking, pedestrian detection, and more), the EV410 features these add-ons as well.

Navistar introduces the eMV:

Built to the same standards as its diesel International MV series truck, Navistar has launched its all-electric medium-duty trucks. Labeled the eMV, these eco-friendly vehicles are available in four wheelbase options and come standard with the Diamond Logic electrical system. Check out what else is under the hood.

New Offerings with Connected Cars
The Connected Car space might appear to be an alphabet soup of features – software and connectivity, financial tools, customer training, audio assistance – but all of this boils down to new revenue streams for OEMs and their partners. According to their estimates, more will be earned from services like driver training, pay-as-you-go insurance and personalized entertainment transactions in the next decade than from selling the car itself.
Think of the Dealerships
The looming change from combustion engines to electric won't just change processes and suppliers, but current automaker/OEM relationships with dealers as well. We know that service staff will require re-training, dealer facilities will require charging infrastructure, and salespeople will need to learn a whole new set of features and benefits. Will they be on board?
Six dimensions of EV's market effects:

U.S. automotive dealers are at a threshold moment. What six key dimensions of business will be affected by dealerships' bottom line, and what can we glean from the U.S. EV market at present? McKinsey has the scoop.

Tesla not the only game in town anymore:

Ford Motor Company is poised to challenge Tesla with an array of electric car and truck offerings in its menu. Competing with a direct-to-consumer model will surely bring new challenges as OEM and dealer business models continue to evolve.

Say hello to the new guard:

When Cadillac announced its plans to go all-electric in 2020, reportedly 1/5th of their dealerships accepted a deal to leave. One year later, Cadillac is welcoming new dealers eager to sell EVs for the storied brand. Here's where they're opening and what this means for Cadillac's bottom line.

For further information on how we got to where we are, I encourage you to check out our previous ICYMI blog posts throughout 2021.