CX Insights - Trend Watch - Automotive Industry (ICYMI April 2023)
ICYMI - This month's ICYMI recap revisits the topic of synthetic fuels! A couple of months ago, I earmarked it as a potential hot topic – and indeed it has been. Its availability weighed heavily on the EU's decision to include an exception to their 2035 EV-only mandate: ICE cars running on eFuels.
You know the drill by now: Here's what we've seen during April/May!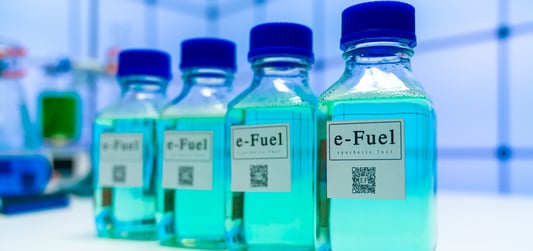 The Survival of the ICE
While eFuel changes are happening across the pond, you know that any decisions and technological advancements in this arena will affect best practices and legislature here in the U.S. (particularly as the government starts to roll out rules on EV release). New federal rules are expected to speed the transition to EVs, a shift that car companies have embraced but will have challenges carrying out). Based on what we see in the EU, I'm sure these current rules won't be set in stone.
The Counter to eFuel
Not all German automakers are gung-ho for eFuels. In fact, in addition to Stellantis, others have spoken out, and more forcefully. Volkswagen and Mercedes have made their opinions known publicly by choosing to invest in other methods. I would guess that their decision is related to the need to maintain a more singular focus in what represents a significant effort and investment in EVs at large, but you be the judge:
eFuels are all white noise, says VW boss:

Volkswagen brand boss Thomas Schäfer recently participated in an interview where, among other topics, he discussed the future of ICEs and eFuels. Despite sharing a brand umbrella with Porsche, Schäfer has no intention of implementing eFuels as part of a Volkswagen brand pitch, deeming the discussion "unnecessary noise." Find out why here.



Mercedes not budging on EV strategy:

Following suit, Mercedes CEO Ola Källenius also doubled down on his company's EV path, reiterating VW models will build future models solely for electric. Källenius isn't looking at the future with rose-tinted glasses, however, as he further elaborated on EV's pros and cons.


We Have Liftoff for Vertical Integration
The happy ending to all this eFuel and clean energy talk for the customer is that they'll have a choice in what kind of car to buy (at least for the immediate future). In a related but separate topic, we noticed a lot of talk about raw material sourcing and EV battery requirements as OEMs become more interested in vertical integration – or at least keeping very close ties to their battery suppliers. Their goal: Minimize supply disruptions as the market continues to take off . . .


GM digging deep into mining for lithium:

General Motors recently announced its intention to invest in EnergyX, a tech startup dedicated to developing alternative lithium extraction methods. This move may pay off big for GM, as EnergyX is eyeing extraction areas the rest of the mining industry has neglected for more conventional avenues.



Stellantis signs with Alliance:

Nickel and cobalt sulfate are in Stellantis' future, as they signed a five-year partnership with Alliance Nickel Ltd. recently. Not only will this deal help in the OEM's battery production, but it will also help them reach requirements for EV tax incentives in the U.S.



Ford watching developments in Chile closely:

President of Chile Gabriel Boric announced the nation's intention to build a state-owned lithium plant

, leveraging Chile's advantage as the second largest lithium producer in the world. While companies currently mining lithium in Chile won't have their contracts eliminated just yet, Ford – and its battery partner, SK – are monitoring the situation.



More Miscellaneous News
Towards the end of April, we came across a great article on how the research, design and development of EVs has spurred investment in facilities that motivate the integration of all key disciplines. It demonstrates how OEMs look more like tech companies these days than the mega industrial centers of yesteryear . . .
Form AND function at these centers:

The EV boom has ushered in unprecedented growth in an area few think about – factory builds. Specifically, R&D centers are forced to evolve as EV technology grows more sophisticated, and with that comes an increased focus on creativity and collaboration alongside the production floors of OEMs worldwide.


For further information on how we got to where we are, I encourage you to check out our previous ICYMI blog posts throughout 2023.