CX Insights - Trend Watch - Automotive Industry (ICYMI March 2023)
ICYMI - Just like that, Q1 is already done! The third month of the year brought us news on continued investment in U.S. electric vehicle and battery manufacturing. Also, this past month, we started to notice more news related to car software decisions that will directly affect the end-user and customer experience, as they shape the future of connected car services. Lastly, we saw additional evidence that pricing in the EV sector is still being finalized as the year progresses.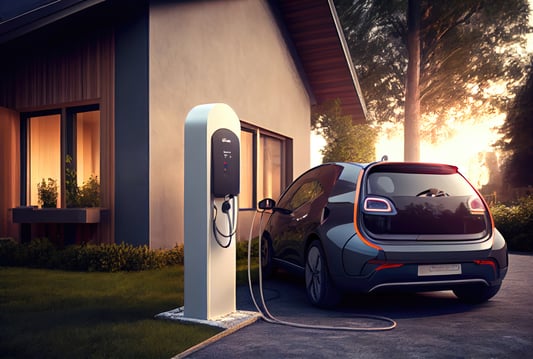 EV Investment Continues
As the rules behind the IRA are finalized, OEMs are not waiting to ensure that as many components as possible are produced locally. This past month, we saw Stellantis, Ford and VW announce investments, plants and jobs aimed to benefit the industry and the economy.
$155M for North American plants: That's how much Stellantis is investing in Kokomo, Indiana, plants for new EV drive modules. This is a huge benefit, as it provides an all-in-one solution for EV powertrains at reduced cost. What's more, this investment raises Stellantis' investments to $3.3 billion since 2020 to support and promote vehicle electrification – and retains hundreds of jobs.

Ford CEO presents a new EV plant: Dubbed "BlueOval City," Ford CEO Jim Farley explained how this new plant isn't just scaling for more EVs, but a story about modernizing and decarbonizing American manufacturing in the wake of UN reports regarding climate change. Here's what else Farley had to say about this development in this one-on-one interview with ABC News' DeMarco Morgan.

Scout is scouting EV builds in the U.S.

: South Carolina is about to be ground zero for an exciting new Volkswagen brand. The OEM's latest brand, Scout Motors, is investing $2 billion in the Palmetto State and Chattanooga, Tennessee, to build and promote Scout EV pickups and SUVs ahead of their scheduled 2026 release.
Connected Car Services
The
VW family and GM are starting what I see as an amicable separation (or contentious divorce
?) f
rom Apple and Android
,
as they announce customer
-
facing changes to their infotainment software
.
I'm
sure
this will allow OEMs to
maintain
more control over who owns the end
-
customer relationship and information
– and in turn,
pave the way to fully realizing new business/revenue models in the OEM/driver-passenger relationship.
In-Car, in-house app stores aplenty:

Household app names like Tiktok, Spotify, Yelp and more are partnering with brands like Volkswagen and Audi to launch their own in-car apps for maximum entertainment and unified connected car software suites. More models like Porsche, Lamborghini and Bentley are earmarked to join this app venture as well, but it begs the question: Who will own user data? Apple/Google/Amazon/AT&T or the OEM?



Google

o

ver Apple for GM's Connected Cars

:

Starting with the 2024 Chevy Blazer model,

GM is phasing out Apple CarPlay and Android Auto systems from their vehicles

, and instead designing its own navigation and infotainment systems with Google's help. This falls in line with the OEM's "Year of the Connected Car" plan – and leaves Apple reeling from the separation.



Not all automobile software advances may be fully welcome by end users as the "repo man" becomes virtual. Great technological advancement will hopefully be managed well enough to avoid any backlash that could affect the customer experience …
A virtual repo man in the making for Ford

:

Ford

recently filed a patent to allow their

connected cars to take themselves to a repo lot if owners ignore late payment warnings

. While the intention is to increase safety in a potentially dangerous line of work, critics are concerned that

events like harsh medical bills or bereavement will lead to automated losses of transportation

.





EV pricing for the

"

everyman

"

:

That's Nissan's pledge as they recently unveiled a new pricing model, the X-in-1 Approach, to match combustion-based vehicle prices by 2030. Volkswagen also revealed their ID.2all model,

an affordable (€20,000) EV aimed at market release by 2026

. While VW's model is a direct response to Tesla,

here's how Nissan consolidated its assembly chain to assure its prices will stay reasonable in the near future

.
More Miscellaneous News
Heads up, safe

drivers:

GM and Stellantis, along with UK-based Envisics Ltd., are investing in a futuristic augmented-reality display that keeps driver eyes on the road alongside important dashboard information. This technology will appear in the all-electric 2024 Cadillac LYRIQ later this year,

but you can take a look at it right now!



For further information on how we got to where we are, I encourage you to check out our previous ICYMI blog posts throughout 2022 and 2023.