A Patchwork of "Past," Present & Future in Auto

By
Jesus Grana
·
3 minute read
CX Insights - Trend Watch - Automotive Industry (ICYMI February 2023)
ICYMI - Even though February was a short month, it still brought us a few noteworthy headlines. During the past few weeks, we've seen an alternate reality that places EVs in the Victorian era, read there's hope for ICE life beyond 2035, and watched the continued march toward a Jetsons' future, turning the driver's seat into a digital "paradise."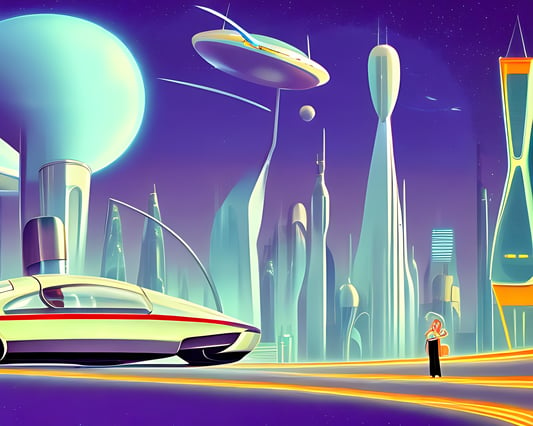 Zombies, Victorian EVs & Pacifiers
We would be remiss if we didn't mention the auto commercials that made the most impact during the Super Bowl. As you can see from the articles below, determining the "best" becomes a subjective decision (or one in which you can always find a data point that supports your story). Personally, I feel they were all winners … but in the end, "he who sells the most" takes it all: 
"Why not an EV," asks GM: In the second quarter came actor Will Ferrell asking this very question to an audience of millions. Prominently featuring GM's EV lineup in a fun Netflix crossover concept, everyone from Love is Blind to Bridgerton was seen interacting with Ferrell's EVs – and the Edmunds consumer traffic for this OEM spiked during the game.

Kia's binky wins hearts and minds: Kia had some fun with the "we will do anything to keep the baby from crying" concept as a father races home to get the binky in a Kia Telluride SUV. According to reports from Cars.com, Kia won the battle of the car commercials in Super Bowl LVII.
A Second Life for ICEs?
While EV growth has passed the trillion dollar mark in sales (!!!), many predict the looming death of the internal combustion engine (ICE) is widely exaggerated. Consumers will ultimately decide when it's over, but that decision will also be impacted by the increasing interest behind synthetic fuels – mostly in response to the EU's planned 2035 ban on new internal combustion engine vehicles.
A

A

13

-

figure milestone

:

Across the globe, consumer buy-in for EVs is increasing – and not just figurat

ively. Factoring in annual spending on passenger EVs at $388 billion last year according to BloombergNEF, EVs have now reached $1 trillion in sales. While that's a colossal number, it bears mentioning that global auto sales total $2.5 trillion a year, with $25T earned in the decade EVs first hit the market. What might this mean for profits?



Working double time during EV transition:

It's true that OEMs producing both ICE vehicles and EVs will have a truly competitive advantage for now, and traditional vehicles aren't going away anytime soon. That said, this will place stress on OEMs already positioning themselves to replenish their battery-based and gasoline-based wares in a post-COVID world. How daunting will it be for these companies to burn the candle at both ends, so to speak?



A

second chance for classic ICEs at Ford:

Partnering with Red Bull, Ford is back to invention at Formula One not just for EV testing, but seeking a way to keep customers who tow or love the sound of a classic car happy.

Here's what Ford CEO Jim Farley had to say about the subject

, addressing the OEM's long-term plan to keep one foot each in electric and conventional vehicle production.





Porsche and Ferrari leading EU engine debate:

The two legendary European OEMs are asking the EU to allow them to use synthetic fuels as a workaround as the planned 2035 ICE ban inches closer. Even though both automakers combined command only a small portion of the auto market, their reputation and legacy have their governments moving to challenge the ban

just days before it was scheduled for a vote

.
The Future & Patents
In celebration of The Jetsons' 60th anniversary, let's take a moment to revisit all the future technological advances the show predicted and follow up with the news of some interesting patents that, while not there yet, are getting us closer to the future and helping improve the driver's experience command center.

60 years later – lessons from The Jetsons:

Sixty years after the show's release, tech bloggers are reflecting on the ways

The Jetsons

has predicted many technologies the world uses today. We're talking comparisons between RUDI and Alexa/Siri, Rosie's robotic vacuum cleaner to Roombas, and those autonomous flying cars.

How close are we to achieving the same world as depicted in "2062?"





GM innovation by touch:

General Motors recently unveiled two patents: One for

a rollable and deployable vehicle infotainment screen

; and one for

a self-cleaning touch screen that erases fingerprints

. Both offer new ways to receive information and fun – multiple surfaces for viewing are always welcome, and there's nothing more annoying than having to re-rub a touch screen due to fingerprint interference. Time will tell how soon these exciting inventions will become mainstream.
More Miscellaneous News
In a prelude to the autonomous driving era, we can have autonomous parking today!
A people mover … for cars!:

Bosch and Apcoa have already successfully tested their "car mover" at Stuttgart Airport and are poised to roll out this new tech in 15 locations across Germany. But what is this car mover?

Simply put, it's automated valet parking

– no tipping required! Here's how this new tech works, from handover to seamless park, in a specialized parking garage.





Evolve to part-time EV driving:

Hyundai has begun Evolve+, an EV subscription service for those who are curious about trying an electric vehicle but only need a car temporarily. Their aim is an affordable customer experience, but this begs the question: What makes this different from a lease?

We think you'll be impressed with just how much their price point covers – and how open consumer terms are.
For further information on how we got to where we are, I encourage you to check out our previous ICYMI blog posts throughout 2022 and 2023.