A collection of curated stories from client industries, CX and global trends that grab our attention.
ICYMI -
It's been a minute since our last blog post about trends in the health care industry! But don't let that fool you into thinking there's been no news. Since the pandemic, the "race" for better health care and increased customer expectations continues to accelerate.
While mental health and improved eldercare is often in the news, we have also noticed greater buzz around non-traditional players investing and growing their health care activities, and more interest in understanding and improving the customer experience in all of health care, particularly for payer/plans.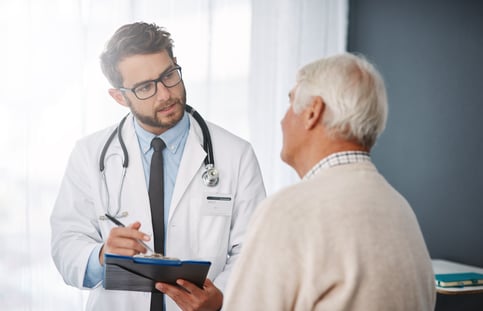 Trend #1: New/Non-Traditional Entrants
From hiring current industry expertise to acquire existing players, non-traditional competitors continue to expand into all areas of health care. One thing that unifies these stories is the desire to streamline the health care process and assist members in overall access. As with the emphasis on user friendliness and accessibility in other aspects of health care, providers are focused on having members and patients options at their fingertips.
FDA experience joins Google Health:

The most powerful search engine provider in the world has recently hired the FDA's former digital health chief, Bakul Patel, to lead its global health care offering strategy. Patel is wasting no time in helping Google identify the best ways the firm can position itself as a unique primary care provider – most recently, exploring how AI tools can help monitor pregnancy, heart health, diabetes and more.



$3.9 billion for One Medical:

That's how much Amazon paid, in cash, for the membership-based primary care practice. It's no secret that Amazon has been eyeing an entry into the health care space for some time now, but this newest acquisition means it will have a very strong launchpad for "reinventing" the quality of a doctor's visit for any reason. One Medical now joins PillPack and Amazon's own in-house pharmacy in the e-commerce giant's portfolio.

While we recently learned that Amazon is retreating from providing primary care and virtual service offerings to its employees at the end of 2022 via Amazon Care, they are continuing to invest in other areas of health care. The One Medical news came shortly after Amazon's announcement that it is looking to hire a HIPAA compliance advisor, underlining how serious the company is in making its own footprint.
Besides the usual suspects (CVS and Aetna), we also see that Walmart and Walgreens are expanding beyond routine pharmacy services as well:
The provider formerly known as MeMD:

Roughly a year after acquiring MeMD, Walmart announced that the health care provider would be rebranded to Walmart Health Virtual Care. This branding change signals a deeper push by the supergiant into a one-stop shop for end-to-end care– this will include urgent care, behavioral health and general care. The latest rebranded centers opened in Florida earlier this year, with many more to come.



Buckeyes & Walgreens:

Walgreens Health's goal of reaching 2 million patients served just received a big boost after their late-June acquisition of Buckeye Health Plan, an Ohio-based Medicaid insurer. In fact, the purchase has now increased membership to 2.27 million people. With this step completed, Walgreens is now seeking to expand the number of its Health Corners, with Ohio firmly in its sights for more physical locations.
Trend #2: A Summer Full of Research Reports
We have also seen various research reports published over the past couple of months. Specifically, we see how consumer and patient expectations have increased and how the industry has or is responding. One major report from CVS Health shows more personalized care is the single greatest driver of a renewed interest in personal well-being. While the particulars are linked here, some interesting numbers include 79% of people surveyed aged 65 and over said annual wellness visits were why they meet with their primary care provider, and a further 17% said they're more likely to book appointments now.

That being true, the numbers remain high regarding a desire for access to virtual telehealth, automated reminders and virtual visits – but the data collected so far shows providers in general still have a ways to go before true customer satisfaction is realized.
Disjointed experience is costing us all:

Smart Communications recently commissioned a study held by Forrester Consulting in order to see what drives member engagement. It found that while nearly every insurer in the industry is aware of the need to improve member experience, 51% of polled members still express dissatisfaction. While no provider is shifting blame for their shortcomings, Forrester found that many still prioritize acquiring more members as opposed to improving their current members' experience.



Communication is key, says J.D. Power:

Additionally, famed market watchdog J.D. Power held its own study regarding customer satisfaction in the health insurance sector. While satisfaction climbed for the past five years, it has plateaued in the past year, with many also citing dissatisfaction with their plans and ease of communication. The top-performing groups polled had multiple digital care tools handy to present a unified, responsive front to their members.



UnitedHealthcare breaking all the silos:

One provider that seems to be hitting all the right notes for customer care is UnitedHealthcare. Forbes sought the reason why, and they sat down with Krista Nelson, UnitedHealthcare's Chief Growth and Experience Officer, to share her best practices in improving an enrollee's life cycle with the company. You'll want to read the details here, but in short, the end-to-end cross functional consumer journey is streamlined, easy to use and transparent – which makes for happy customers indeed.
We will continue to monitor the industry news and periodically share with you what we consider the trending topics benefiting customer experience. As a CX service provider, we are excited to partner with our health care clients to maximize any opportunities these trends bring.