A collection of curated stories from client industries, CX and global trends that grab our attention.
ICYMI -
In our end of 2022 update, we're continuing to highlight articles we found newsworthy and relevant to current trends in the industry, to our clients and their customers.
In general, we continue to see interest from established companies, and entrepreneurs from outside health care, to form and/or strengthen their presence in the industry. Over the last few months, in addition to the now "usual suspects," like Amazon and CVS, we are seeing Apple, Mark Cuban and JP Morgan growing their forays into the industry.

We also caught a couple of articles that could be translated into what I call the "co-opetition" trend, where you see "symbiotic" or mutually beneficial partnerships between established and new players offering original, improved and/or reduced cost services. In this space, we saw a couple of examples with Amazon and existing players, as well as Cigna and Walgreens, and in the tech sector, United Healthcare and Apple.
As the U.S. population ages, growth in the health care industry is guaranteed. One goal/objective from such increased activity could also be summed up in an attempt to unify all patient needs into a single "brand" – like in every industry, "he/she/they" that owns the relationship with the end customer (patient) will reap the benefits that come with loyalty.

From our perspective, we can see how Customer Experience (CX) has a better opportunity to improve as the industry takes on this customer-centric approach to deliver 360-degree wellness capabilities within a single hub/source.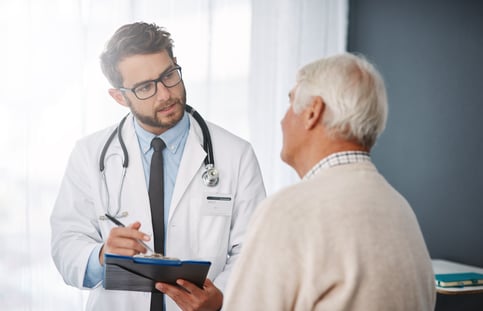 Trend #1: New/Non-Traditional Entrants
From hiring current industry expertise to acquire existing players, non-traditional competitors continue to expand into all areas of health care. One thing that unifies these stories is the desire to streamline the health care process and assist members in overall access. As with the emphasis on user friendliness and accessibility in other aspects of health care, providers are focused on having members and patients options at their fingertips.
Apple Health coming in 2024?

T

he fact that Apple already has an extensive catalog of smart tech that monitors health makes them an obvious future contender in the health insurance business

,

according to analysts at CCS Insight.

A

report from Forbes solidifies this, stating that

Apple will enter

the health insurance market with a major existing player as early as 2024

.

But who?





Pharmaceuticals on Mark Cuban's to-do list:

It's true that Mark Cuban's

Cost Plus

Drug Co. is a small team of 33 now, but their eyes are on a much larger share of the

pharmaceutical market.

The billionaire investor has recent

ly gone on record to state the company's intention

to shake up the

industry with

bottom-dollar dispensing and shipping fees

,

as well as smaller profit margins for each order.

Thi

s approach has begun to attract

payers like Capital Blue Cross, with more expected to join in 202

3 – with brand-name

drug vendors being Cuban's ultimate goal for

partners

hips

.





Another push for JPMorgan:

Despite the recent dissolution of Haven, a joint health care venture with Amazon and Berkshire Hathaway, JPMorgan is seeking to reenter the health care field with the creation of Life Sciences Private Capital. It is an investment firm wholly focused on providing venture capital for early- to later-stage health research. This news comes around the same time as their announcement that Morgan Health, their recently formed health wing of business, earmarked a new strategy for fostering doctor/patient relationships and care. Their plan? Full-service office atriums, where patients are guaranteed between 30 minutes to an hour with their primary care provider and wellness coaches. For both stories, JPMorgan's goals are the same: How do we keep [you] out of the hospital?

Besides the usual suspects (CVS and Aetna), we also see that Walmart and Walgreens are expanding beyond routine pharmacy services as well:
Trend #2: Co-opetition in the Health Care Market
Amazon Pharmacy collecting payer contracts:

Beginning in 2023, Amazon Pharmacy will p

osition itself as the sole home-

prescription delivery service for Florida Blue.

This massive acquisition

m

eans

over 2 million Florida Blue members will join Amazon's

growing

mail-order drug program, which

promises two-day delivery and up to 80% off generic brands

.

This setup has already

proven popular in states like North Carolina and Massachusetts

; where will Amazon go next?





Won't you be my patient, asks Walgreens

:

Walgreens

VillageMD

recently announced they would be purchasing Summit

Health+

City

MD for $9 billion. While this merger is yet to be approved, this combined health presence would

make

parent company

Walgreens

Boots Alliance

a majority shareholder

of

VillageMD

,

as

well as

one of the largest care providers in the country.





UnitedHealthcare + Apple for a little longer:

While this may be old news to those with Apple Watches,

UnitedHealthcare will remain partne

red with Apple to provide free Apple Fitness+ subscriptions to employer-funded health plan members

. It's worth noting that UnitedHealthcare was the first to partner with Apple for such a venture, and its renewal means

a positive future for traditional health care plans and tech vendors alike.
We will continue to monitor the industry news and periodically share with you what we consider the trending topics benefiting customer experience. As a CX service provider, we are excited to partner with our health care clients to maximize any opportunities these trends bring.