A collection of curated stories from client industries, CX and global trends that grab our attention.
ICYMI -
As an update to our debut
"In Case You Missed it" Health Care Payer blog post
,

we also wanted to give you a quarterly update of articles we found newsworthy as it relates to current trends in the industry relevant to our clients and their customers.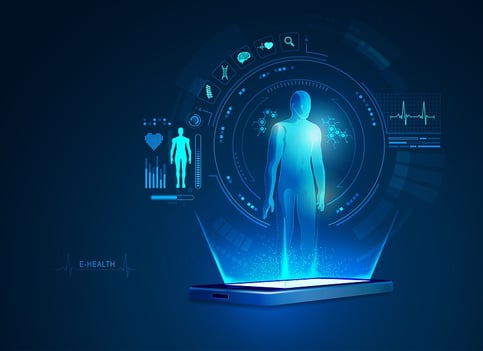 With CES 2022 in the books, and the RISE and ViVE conferences passed in Q1, there is no shortage of information in the key trends we previously reviewed in December. In particular, we saw two trends emerge from this wealth of news. If nothing else, everyone's talking about them – the sheer volume of articles based around these two topics is staggering, and we've parsed out our top choices for you to review.
Trend #1: Digital Activity, Offerings & Investments Continue to Increase
Digitization is occurring in every industry, and in many cases, is wholly driven by consumer demand. From information to grocery delivery to online car shopping, we see that the customer experience seems to have greatly improved via digitization. The same appears to be true for health care as well. Last January, digital health was a hot button topic at CES 2022. Industry leaders and health professionals alike are exploring how digitization can address health equity and watching trends such as telemental health, digital therapeutics and women's health.

For instance, MedCity News posted a truly informative article gauging consumer experience of health care in the post-COVID era. In it, they found that virtual care has become so commonplace in all sectors that virtual-first health plans are expected to increase from one plan in 2019 to 15 plans in 2022. Clearly, all major health insurers know this and are adjusting their investment strategies accordingly for long-term growth.
Nearly half a billion in investments for Cigna:

$450 million, to be exact. That's how much Cigna is allowing its venture capital arm to invest, with an aim to expand capabilities in insights and analytics in digital health and care delivery. Since 2018, Cigna has invested heavily in its venture arm, with a growing portfolio of names in its investments. This latest investment is expected to generate over $12 billion in deployable capital this year alone, with massive dividends returned to shareholders should this attention to digitization pay off.



A meeting of service minds in Graphite Health:

Graphite Health is a new nonprofit formed by heads of other nonprofit health care giants like Kaiser Permanente, Intermountain Healthcare, Presbyterian Healthcare Services and SSM Health. Their mission: Pool resources and work together so all companies involved can provide convenient, top-quality care at lower price points for the consumer. This also means closely examining digital health with apps, connected health sensors and digital therapeutics made popular during the pandemic. Here's what other companies and partnerships will be covered under this health service supergroup.
As you see, telehealth continues to grow even beyond demand created by COVID-19. This also means that health insurers are leveraging the power of remote care not just for ease, but for monitoring and early prediction as well.
Humana using Fitbit as early alert:

Humana Medicare Advantage plan members who were issued Fitbits will see their data used to study if flare-ups from chronic conditions can be predicted in advance, according to its chief medical officer. Having given away over 116,000 devices in December 2020, Humana is still in the process of interpreting this wealth of data, and outlined the benefits of such discovery at RISE 2022.



Anthem Blue Cross & Blue Shield expands virtual primary care:

Leveraging Sydney Health as a base, eligible Anthem BCBS members in Georgia will now have access to high-quality, 24/7 virtual care. While most health insurers have such a system in place, what makes this one special is Anthem's focus on AI-driven modeling and analytics, which synchronizes health plans with an individual's primary care physician. How else does this model mean better care for the customer?
Trend #2: Non-Traditional Entrants Enhancing Health Care Access
With new options to access quality health care comes new players in the service game – especially those with already strong customer satisfaction online. It's safe to say no company in North America knows this better than Amazon as it continues its multi-pronged entry into various industries, including health. While Amazon is not the only new face in town, the moves it's making have implications for other nontraditional companies seeking a way to add health services to their portfolio.
Alexa, your patients are ready:

In our previous blog post, we wrote about Amazon Care coming soon and Alexa's recent HIPAA compliance. Now, Amazon has partnered with Teladoc to launch its voice-activated virtual care program, based on Alexa. The details are in this article, but the bottom line for consumers is $75 per physician request without insurance coverage. Already Amazon's hybrid model of telehealth and in-person services are making inroads among several cities and employers in 2022, as companies like Silicon Labs, Hilton and Whole Foods Market are signing up as customers for this service. After successful trial runs in Seattle, Baltimore, Boston, Dallas, Austin, LA, Arlington and Washington, D.C., expect to see more major metropolitan areas adopt this new digitized health model.

We also learned that Amazon plays well with existing players, and more names in health care doesn't have to mean more competition. For example, Amazon Pharmacy announced at ViVE 2022 that it is teaming up with Blue Cross Blue Shield to roll out its MedsYourWay prescription discount savings card. This card will be available for BCBS members in New Jersey, Nebraska, Alabama, Florida and Kansas, with more states being added soon.



CVS/Aetna and Uber joining forces:

With all the focus on accessing quality medical consultation, there's been little talk about who will transport ailing customers to emergency care, routine checkups and all visits in between. That's where CVS/Aetna and Uber's budding partnership comes in: They're working on an innovative program using ride-sharing to offer free transportation to consumers' appointments and other resources. While this program will test first in Atlanta, Hartford and Columbus, plans to expand in other cities aren't far behind.
We will continue to monitor the industry news and periodically share with you what we consider the trending topics benefiting customer experience. As a CX service provider, we are excited to partner with our health care clients to maximize any opportunities these trends bring.