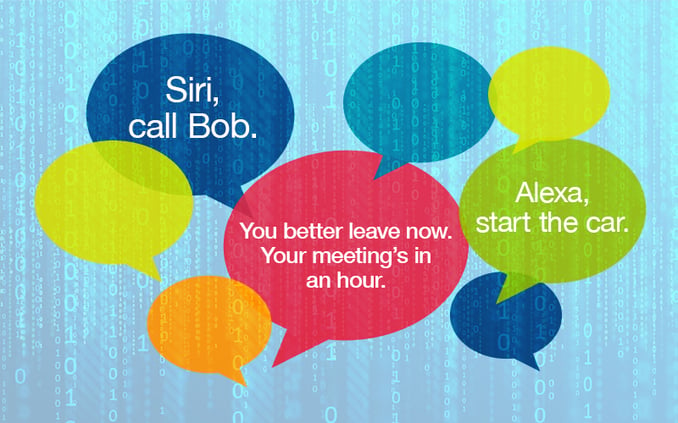 Based on a sample of late 2017 announcements, we expect 2018 to continue heating up the future of connected car services.
Like many strategists following the industry, we are obsessed with news related to the automotive industry's future and how new technology will influence the world of customer service. In this post, we're highlighting announcements that we find most interesting and most likely to become longer-lasting trends (not fads). These three are worth sharing and keeping close tabs on.
Intelligent Personal Assistants
It all started with our smartphones and Siri. Remember how, after two or three tries (at least), we could finally get Siri to "call Bob" instead of "mom"? Then came Amazon Echo's Alexa, which introduced elements of artificial intelligence into voice recognition. And of course Google Home followed almost immediately.
Some OEMs started partnering with Amazon and Google to allow command integration with these intelligent personal assistants. For example: "Alexa, start the car."
Now, Hyundai has announced the next logical step – an Intelligent Personal Agent that can predict a driver's needs ahead of time and control additional features such as adjusting the temperature in the cockpit.
Not only will it allow you to lock doors and turn on the AC and radio, but it will also be proactive, checking your calendar and reminding you, "You better leave now if you want to get to your meeting on time."
The Car Marketplace
So, your car tells you that you may be running late to a meeting. What's your next logical request – to press a button and have Starbucks prepare your coffee for a quick pickup just as you arrive to the drive-thru? General Motors, with its more than 2 million OnStar-connected cars, will provide just that with in-car ordering.
The car marketplace is in its infancy, but we expect it to expand and include additional services like lunch and dinner takeout, and even parking reservations. No more driving around to find a spot! The only limitation is our imaginations.
Vehicle Subscription Services
Now that cars have all this smart technology, we know that, just like iPhones, we'll probably need to change it every couple years to ensure we have the latest and greatest. Why get stuck with one car for three, four, five years or more? Instead, subscribe and own a different Cadillac or Porsche every month, or go to your dealer and subscribe to Certified Pre-Owned vehicles – a deal for you and for the dealer that opens up opportunities for otherwise idle inventory.
This is a new business model that has expanded rapidly in less than two years. We can only expect it to continue to accelerate.
Conclusion
In a couple of years, the phrase, "This is not your father's Oldsmobile" will take on a completely new meaning … The auto industry is positively waking up to the opportunities brought by technology and changing consumer attitudes toward mobility.
As an urban dweller, I have seen many changes that will grow exponentially as the benefits are molded toward a suburban environment. While suburban commuters may not currently find ride-sharing to be cost effective for their daily mobility needs, the ability to save 30 minutes in securing your morning coffee or sharing a subscription with a family member for auto usage may be a lot more convenient.
Getting used to intelligent personal assistants like Alexa will become second nature to accepting the same technology in our automobiles.
How does all of this exciting auto tech influence the world of customer service? Regardless of how smart AI becomes, a positive customer experience will always be job number one. Contact centers will remain essential as AI handles the menial requests and live agents administer higher level requests. Experts have started calling them "Super Agents" since they will seamlessly interact with this new technology to ensure unparalleled customer experiences.
As mentioned in previous blog posts, the future has already started. OEMs are not sitting idly waiting for it.