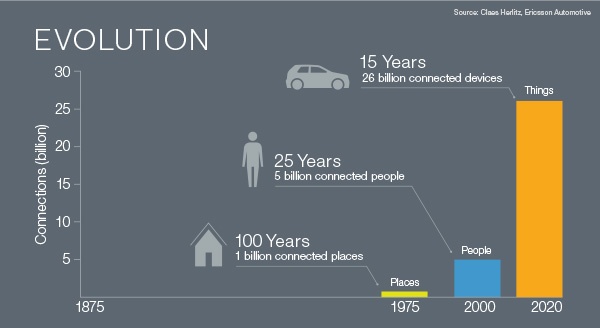 The evolution of how we connect with other people, places and things has moved at a staggering pace - especially in the last 15 years. Nowhere is this more evident than at TU-Automotive Detroit 2017, the 17th annual Connected Car Conference & Expo.
Of particular interest: Ericsson Automotive's Claes Herlitz's presentation "Gear Up for the Connected Vehicle Ecosystem." He aroused our imaginations with speculations of communication potential when 26 billion devices are connected with people as intermediaries within the next three years.
It made us think about how "the future" is almost here:
Automakers are incorporating predictive analytics and wifi into vehicles (e.g., Chevrolet's 2016 lineup includes some cars with 4G LTE).
Want to connect to your refrigerator or washing machine? Electrolux and Haier and other appliance manufacturers are making it happen.
Connected homes could soon make it possible for you to check on your newborn sleeping a room away, or your elderly parent living states away.
When it comes to connected cars, the opportunities seem endless. As we saw at the conference, existing new mobility opportunities like car sharing, ride sharing, infotainment are only scratching the surface.
While Ericsson's full presentation is not freely available, you can find more about the connected vehicle vision and what it might mean to your business on Ericsson's website.
If you want to attend the world's biggest conference and expo for connected and autonomous cars, mark your calendar for June 6, 2018, when TU-Automotive Detroit 2018 kicks off in Novi, Michigan. For more information about innovations in connectivity, mobility and autonomy, visit the TU-Automotive website.
What do you think? What will be your favorite feature of the autonomous car?